Facilitating communication, access and participation
Intervenors are trained professionals who help facilitate communication, access, and participation in all parts of daily life for people who are Deafblind. They are narrators, informers, guides, and communicators. Taking direction from the person who is Deafblind, intervenors help enable communication and provide information about the physical environment. 
An intervenor communicates with a person who is Deafblind using a variety of communication methods, including American Sign Language (both visual and tactile), two-hand manual, voiceover, print-on-palm, large-print notes and more. 
Intervenor services truly change lives by creating hope, building confidence, increasing safety and independence - leading the way to a brighter future, and opening up a world of possibilities for people who are Deafblind across Canada.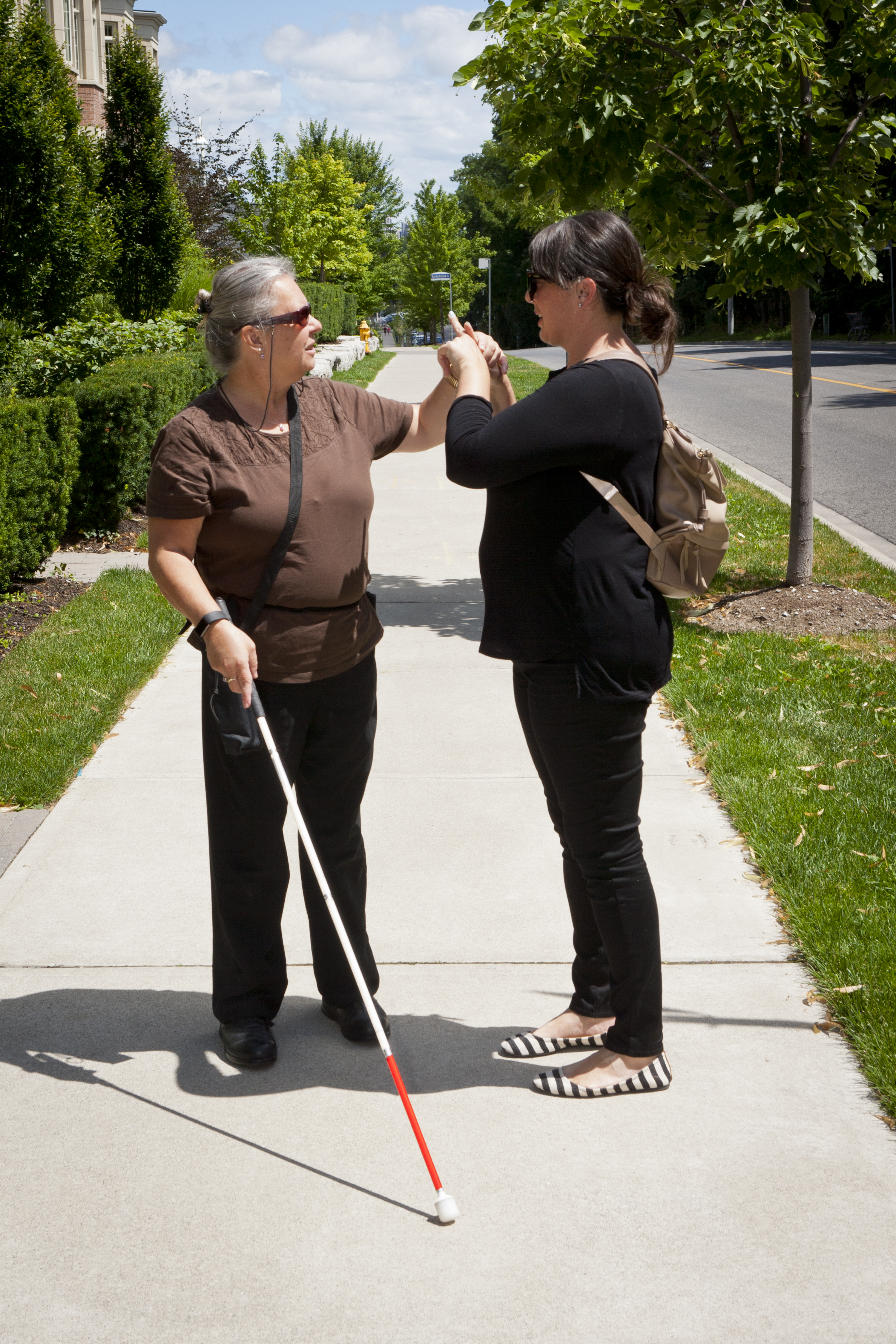 How do intervenors help?
Intervenors must always be ready and willing to adapt to each client's individual needs and provide support in many different ways. Intervenor services can be used to assist adults who are Deafblind with:
Facilitating communication. Similar to a translator, intervenors provide communication support for clients, enabling them to access their community (such as going to the bank, the library, shopping or attending a class).
Access to information. Access to accurate and up-to-date information is critical, and enable individuals to make informed decisions, especially during important or sensitive meetings, such as medical appointments or during meetings with a lawyer. 
Building confidence in independent living skills. Intervenors can provide support in everyday skills that will enable independence in their daily lives, such as managing money, making purchases, using public transportation, taking medications, providing transportation and more.  
Day-to-day activities. From reading the mail to engaging in physical activity, to socializing with friends and family – intervenors help facilitate access to a wide variety of activities that enhance daily life – and offer clients the freedom to choose the lives they want to live. 
Certified Deafblind Intervenor Specialists (CDBIS)
CNIB Deafblind Community Services is proud to say that all our intervenors are currently working towards achieving CDBIS Certification.