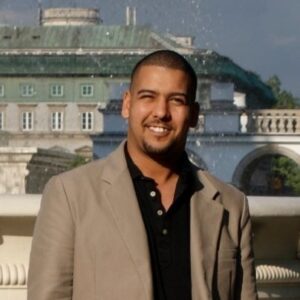 A message from the National Director of Program Operations
As part of DBCS' strategic mandate, we are looking to advocate and expand the services that are available across the country. I am excited and honoured to join DBCS in the role of National Director of Program Operations with the goal of facilitating this growth across the country.
This new role will help to gather and develop practices that have helped Ontario succeed in providing services, and then use those practices to create structure for new service areas to grow. It will examine what has worked and what has been a struggle within service delivery. This work will help our new offices grow without having to go through the tough learning, which we as an organization have been through over many decades. But this doesn't mean that our provincial team is finished learning and growing. The role of the National Director of Program Operations is meant to help support the continued growth of our team in consistently meeting the needs of our clients in new and creative ways.
I look forward to working with each of you, learning from your experiences and working together to build an organization that is always on the cutting edge of service. We have an opportunity to share these skills, ideas and processes to help shape how Canadians who are Deafblind are supported throughout the country. This is a responsibility I accept passionately with each of you. I look forward to connecting with you along this journey.
Trevor Hinds
National Director of Program Operations