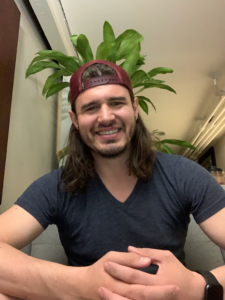 My name is Merico Tesolin and I am very pleased to have joined the DBCS team in September 2020 in the role of Advisor, Client Relations and Advocacy. I have been involved with DBCS as a client, volunteer and staff member since 2003. In 2009, I moved from London, Ontario to Edmonton, Alberta. In 2013, I started working with the CNIB Foundation in Edmonton, first in fundraising and then in public awareness, to provide education about CNIB's programs and services. In the summer of 2020, I moved back to Ontario and am currently living in Toronto.
I have been involved in advocacy for Deafblind people for many years. I learned a lot about advocacy while living in Western Canada. In fact, I was one of the co-founders of the Alberta Society of the Deaf Blind (ASDB), which provided advocacy for Deafblind individuals in Alberta. Through this advocacy work, we received funding to hire Support Service Providers (Intervenors) for two years.
In my role, I have been working with DBCS clients across the province of Ontario and assisting Deafblind individuals with their advocacy needs. I have developed an anonymous client service satisfaction survey to help us better understand how we can best support you.
Through this work, I hope to empower Deafblind people through education and advocacy. But rather than doing this "for" you, I will do it "with" you. I want to take a moment to make a promise to you. I will listen to your situation, and then together, we will discuss what your options are. I will go through everything with you, step by step, not only advocating with you, but teaching you how to advocate for yourself.
If you are looking for advocacy support, I encourage you to reach out right away – whether you're experiencing barriers in accessing places, barriers with landlords, or if you're facing other types of discrimination. If you want to set up a time to meet in person or on a video call, please feel free to contact me to request a meeting.
My contact information is:
Text message: 416-930-1662
All About the Ambassador Program
What's the purpose of the Ambassador Program? 
The DBCS Ambassador Program promotes social inclusion by raising awareness, changing perceptions and inspiring actions.
Who can become a DBCS ambassador? 
Ambassadors are individuals who are Deafblind and have benefited from DBCS programs and services.
What do ambassadors do? 
Our ambassadors will make an impact by sharing their challenges and successes of living with Deafblindness, and giving presentations on the needs, experiences and issues faced by people who are Deafblind.
Who will ambassadors speak to? 
Ambassadors will speak to seniors' groups, elementary schools, high schools, college and university students, community groups, corporate groups, event attendees and healthcare professionals.
Where and when will ambassadors conduct presentations/speeches? 
A presentation's date, time and location will be finalized with the host, based on geography, mutual availability and the availability of intervenors and/or interpreters. Ambassador presentations may happen on weekdays, evenings or weekends. Many of these presentations will also happen virtually.
Will ambassadors receive any training?
Yes. Ambassadors will have the opportunity to receive training on a wide variety of subjects, including technology. The Advisor, Client Relations and Advocacy will help coordinate training that will compliment the ambassador's strengths and provide support in areas where they would like to develop their skills.
I'm interested in becoming an ambassador. How do I get started?
If you are interested in becoming an ambassador for DBCS, or would like further information, please contact Merico Tesolin, Advisor, Client Relations and Advocacy, at:
Text message: 416-930-1662
Meet Merico in ASL